Aquiles Priester divulga vídeo da música "Winds of Destination"
O renomado baterista Aquiles Priester acaba de lançar em seu canal oficial do YouTube mais um da série de vídeos pedidos e aguardados pelos fãs em todos estes anos de carreira. A música escolhida pelo artista foi "Winds of Destination", do álbum "Temple of Shadows". O áudio da bateria foi produzido, gravado, mixado e masterizado por Adair Daufembach no Studio Daufembach em Hollywood, CA, nos Estados Unidos. O vídeo foi dirigido e editado por Arthur Galvão.
Todo o instrumental foi regravado pelos grandes músicos da "Rebirth of Shadows Tour" como Edu Falaschi (vocal), Fábio Laguna (teclados), Roberto Barros (guitarras), Diogo Mafra (guitarras) e Raphael Dafras (baixo). Ainda esta semana será divulgado o vídeo da música "The Shadow Hunter", também do álbum "Temple of Shadows".
Ficha técnica:
Banda: Angra
Música: Winds of Destination
Music: Bittencourt, Loureiro
Album: Temple of Shadows – 2004
Músicos:
Aquiles Priester – Bateria
Edu Falaschi – Vocal
Felipe Andreoli – Baixo
Rafael Bittencourt – Guitarras
Kiko Loureiro – Guitarras
Hansi Kürsch – Vocal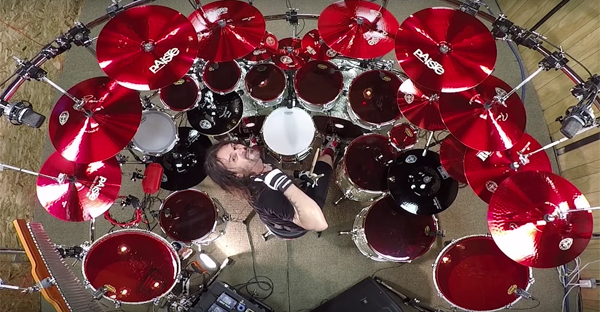 Aquiles Priester usa as seguintes marcas: Mapex Drums, Paiste Cymbals, Roland, AKG Microphones, JBL, Soundcraft, Gibraltar Hardware, Evans Drum Heads, Pro-Mark Sticks, LP Percussion, DW Pedals, Cymbag, Xtreme Ears, Urbann Boards PsychoShoes, Power Click, Consulado do Rock e Lady Snake Rock Wear.
Recentemente, o baterista Aquiles Priester confirmou uma grande turnê de workshops por todo o Brasil, além de seguir ao lado dos seus amigos Edu Falaschi e Fabio Laguna na "Rebirth of Shadows Tour". Confira as datas dos workshops e da terceira perna da turnê com Edu Falaschi.
Links relacionados:
http://aquilespriester.com.br/
https://www.facebook.com/aquilespriester
Datas da Psychocoptus Drum Show 2018:
07.04.2018 – São Paulo/SP
09.04.2018 – Araraquara/SP
11.04.2018 – Maringá/PR
12.04.2018 – Londrina/PR
18.04.2018 – Brasília/DF
19.04.2018 – Goiânia/GO
20.04.2018 – Anápolis/GO
24.04.2018 – Belo Horizonte/MG
26.04.2018 – Barretos/SP
03.05.2018 – Vitória/ES
07.05.2018 – Guarapuava/PR
09.05.2018 – Cascavel/PR
21.05.2018 – Bento Gonçalves/RS
24.05.2018 – Curitiba/PR
---